Dongfang Precision Group
Dongfang Precision Group (hereafter referred to as the "Group") was founded by Chairman Tang Zhuolin in Foshan, Guangdong in 1996. The Group's strategic vision and core business focus on "intelligent manufacturing." It was one of the first companies in China to engage in research and development, design, and production of intelligent corrugated packaging equipment. Since its public listing in 2011, the Group has established a dual track development model of internal development and external expansion. It has broadened its business to serve both the upstream and downstream customers in the corrugated packaging equipment industry. The Group has become a leading international supplier of intelligent corrugated packaging equipment with comprehensive strength. Through the implementation of intelligent and digital transformation, it has become a provider of overall solutions for smart factories in the industry. In the field of core components, the Group's subsidiary Parson Power is a leading professional supplier of outboard motor equipment in China.
Group Business Sectors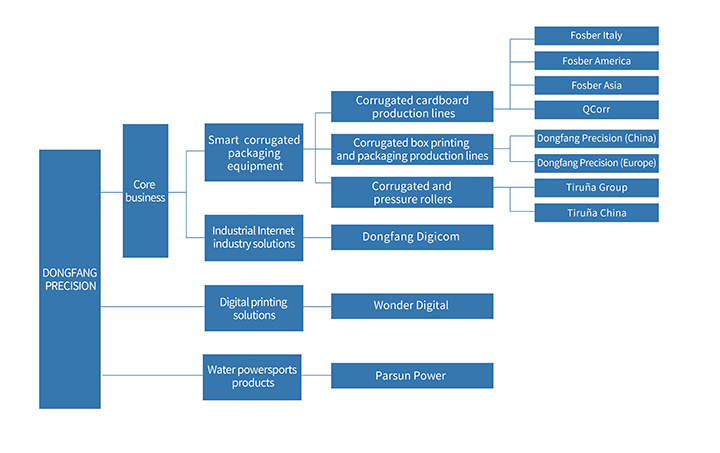 Intelligent Corrugated Packaging Equipment Sector
The Group comprises several major sectors. These include the Intelligent Corrugated Packaging Sector, Digital Printing, Industry Smart Factory Solutions, Core Components, and Capital Operation.
The Group's intelligent corrugated packaging equipment business mainly includes the manufacture of corrugated cardboard production lines, corrugated box printing, and other packaging equipment. Businesses within this Sector include Fosber S.p.A. (hereafter referred to as "Fosber Group"), Guangdong Fosber Intelligent Equipment Co., Ltd. (hereafter referred to as "Fosber Asia"), Guangdong Dongfang Precision Technology Co., Ltd. (hereafter referred to as "Dongfang Precision Printing"), and EDF Europe S.r.l. (hereafter referred to as "EDF"). These entities, together, form a complete global organization for research and development, production and sales.
(1) Corrugated Board Production Line
The Group's corrugated board production line business is mainly based in the wholly owned subsidiary Fosber Group and its subsidiary Fosber Asia. Fosber Group mainly covers mature international markets such as Europe and the United States, and Fosber Asia mainly covers global markets such as China, Southeast Asia, Africa, and South America.
Fosber Group is the world's key supplier of high-end corrugated board production lines and is one of the two largest companies in the world in the field of producing high-speed wide-format corrugated board production lines. Customers include world-renowned large-scale packaging companies such as International Paper, Smurfit Kappa, and Turnhout. Fosber Group is very influential in the global market and has a strong reputation throughout the world. It is an important promoter of new technology and an innovator in high-end corrugated cardboard production lines.
In 2019, Fosber Group completed the acquisition as the controlling shareholder for Tiruña Grupo Industrial, S.L.U in Spain (hereafter referred to as "Tiruna Group"). Tiruna Group is a pioneer manufacturing enterprise with a century-old history that focuses on the production of high-end corrugated rolls and pressure rolls. It is currently the world's leading professional corrugated roll manufacturer.
In 2020, Fosber Group acquired Agnati, an Italian manufacturing company producing corrugated board machines, and changed its name to Quantum Corrugated. Founded in the 1930's and having a long lasting good reputation for its brand, this company is one of the world's leading suppliers for corrugated equipment. As of 2020 it had sold more than 3,000 units in 82 countries around the world. In 2021 it launched the new Quantum series corrugated board production line and achieved a sales breakthrough in the same year.
Fosber Asia in China has entered the fast lane of development since 2020. With the successive launch of new products such as its domestically produced high-end smart corrugated board machines, its market share in China and Southeast Asia has continued to grow.
(2) Corrugated Box Printing and Packaging Equipment
The Group's corrugated box printing and packaging equipment business mainly involves Dongfang Precision Printing and EDF.
Dongfang Precision Printing has launched two series of linkage machines and stand-alone products for customers in both domestic and international markets, including the top-printing and bottom-printing slotting die-cutting machines. The TOPRA series is for the domestic market, while the APSTAR series is mainly for the international market. The Casemaker FD series and Casemaker HGL series, with dozens of products of different specifications and market orientations, are for foreign markets. These series are the most complete product lines in the world. They present corrugated printing customers with the most complete product line and the most abundant product library worldwide.
In 2016, Dongfang Precision Group acquired the Italian EDF company and used it as the R&D and manufacturing base in Europe for complete production lines for high-end corrugated box printing. Expanded R&D and production in Europe further drive the global sales of products and put into practice the Group's development strategy of positioning in the high-end market, focusing on international market share, and balancing allocation of global assets.
(3)Industry Smart Factory Solutions
Dongfang Digicom Technology Co. Ltd., was established as a subsidiary of the Group in 2020. As a pioneer of digital innovation in the packaging industry, DFDIGICOM focuses on providing customers with intelligent factory layout planning and design, intelligent logistics and warehousing solutions, and industrial internet platform services. Its success is based on data collection, system integration, data processing, big data analysis and application of the whole factory equipment, enabling the digital transformation of the industry through new generation of advanced technologies such as IoT, cloud computing, big data, 5G and artificial intelligence.
Digital Printing Equipment
Founded in 2011, Shenzhen Wonder Digital Technology Co.,Ltd. a pioneer in the digital printing industry, is focused on providing customers with environmental-friendly, energy-saving, high-efficiency and cost-effective digital printing equipment.
The digital printing equipment manufactured by Shenzhen Wonder is sold globally. More than 1300 sets of equipment are running around the world.
In February 2022, Dongfang Precision Group acquired Shenzhen Wonder.
With its profound market accumulation, innovative technical superiority, and digital-driven concept, Shenzhen Wonder provides customers with a big array of digital printing solutions.
The industry's only hardware equipment provider that meets the portfolio of global mainstream market needs in the entire industrial chain.
Marine power equipment
Suzhou Parsun Power Machinery Co., Ltd. (hereafter referred to as " PARSUN "), PARSUN is a national high-tech enterprise focusing on R&D, manufacturing, sales and after-sales service of outboards. Our core products are widely used in water recreation and sports, fishing, water transportation, emergency rescue, coastal service, maritime patrol and other fields. As one of the largest manufacturers and exporters of outboard engines in China, PARSUN's outboards serve more than 100 countries and regions around the world.
Capital Operation
Hainan Yineng Investment Co., Ltd. is the unit that undertakes extended business development for the Group. Taking the machine industry as the foundation and capital as the power , and following the Group's strategic planning, Yineng will have a better business cycle performance. Yineng invests in companies with broad industry space and good industrial advantages. It focusses on industries related to the main business of Dongfang Precision, relying on industrial advantages, full participation in Chinese high-end equipment manufacturing, artificial intelligence, large consumption, biomedical and other strategic emerging industries. While pursuing the goal of good investment returns, company will seek to achieve industrial synergy, expand new industrial development space, and help the Group to grow steadily.
Beginning in 2020, the Group made "digitalization and intelligence" an important part of its strategy for the next five years. During the implementation of this strategy, the Group's business model will gradually change from "equipment manufacturing supplier" to "industry smart factory total solution provider". At the same time, the Group will continue to accelerate the organizational capacity building of group management and control, develop close collaboration between sectors, and jointly promote digital upgrades. It will strengthen the leadership of middle and senior managers, optimize the Group's talent management system, and lead all subsidiaries to achieve sustainable growth stability. The Group will continue to develop as what it has already become: an industry leader with high influence, customer trust, shareholder trust and employee respect.